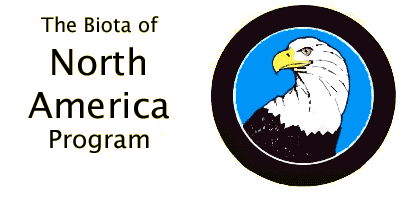 BONAP NOTES and NEWS
NEWS (April 11, 2013): BONAP's Customized Geographic Database Page is now fully functional. Our Customized Geographic Database Page (TDC-CGD) is now fully functional and ready for use. Options for creating an account and signing in can be found atop the page.
NEWS (April 5, 2013):

BONAP adds 45,000 more photographs to its Image Gallery. Since early January, 2013, BONAP has been processing its back-logged collection of photographs for display on our website. The new additions will include images of many exotic taxa. We are grateful to many of our European, Australian, Asian and North American friends and colleagues who have provided these photographs. Their names are included within our photographic contributors section. Many additional photographs will be displayed later in 2013.
NEWS (April 2, 2013): Thank you all for waiting! Today, BONAP launches its long awaited Databases. BONAP is proud to announce the launching of our new databases: TDC Query Page, TDC Customized Geographic Database Page and a comprehensive update of NAPA. The TDC assesses all 33,000 unique vascular plants taxa recorded for North America north of Mexico and provides the most current taxonomy, nomenclature and phytogeography. The Customized Geographic Database Page enables individuals to build their own vascular plant databases anywhere in North America.
NEWS (March 1, 2013): BONAP completes the 2013 update of the NWPL. On March 11, 2013, BONAP provided its annual update of the National Wetland Plant List to the U.S. Army Corps of Engineers and partnering agencies. The update from the 2009 data includes a total of ~100 new species and 370 taxonomic and nomenclatural modifications. The list will be published in Spring 2013.
NEWS (October, 2010): BONAP has now completed its taxonomic and phytogeographic update of the National Wetland Plant List. BONAP, in collaboration with the U.S. Army Corp of Engineers, the U.S. Fish and Wildlife Service, the Environmental Protection Agency and the National Resource Conservation Service of the Department of Agriculture, has completed its update of the NWPL, published originally in 1988 by the U.S. Fish and Wildlife Service. The update includes 1800 species newly listed wetland species and provides a comprehensive reassessment wetland rating for each species. BONAP will provide annual updates of the taxonomy and phytogeography.
NEWS (October 2010): BONAP releases the first comprehensive update of its DRAFT web-based North American Plant Atlas (NAPA).* Although my intention was to provide this update of our North American Plant Atlas earlier in the year, the overwhelming number of new records precluded a more timely release. This updated DRAFT includes over 50,000 new county-level records, more than 50 new genera, and reports hundreds of new state-level occurrences. As with all of our data, virtually all of our nearly 5,000,000 county-level records are backed by both a vouchered specimen and a highly reliable bibliographic reference. Additionally, tens of thousands of historical county and state level records that were based largely upon false applications, misidentifications or antiquated taxonomic circumscriptions have been deleted for the website but will be maintained as false reports within BONAP's database. Numerous additional taxonomical modifications, especially within the Brassicaceae, Fabaceae, Onagraceae, Verbenaceae, etc. will be made later this year, but will require more careful analyses prior to inclusion. These, along with an anticipated 100,000 additional county-level records will be posted early in 2011. BONAP will continue to provide both taxonomic and phytogeographic embellishments of these data within each of our anticipated semi-annual releases. ANY and ALL comments are welcomed. [JTK]

*To view the most recent update, please make sure to refresh the webpage.


NEWS (October 2010): BONAP updates its plant rarity files. For nearly an entire year, BONAP, in concert with the various U.S. State and Canadian Heritage Programs across North America, has advanced all of our plant rarity files to reflect more accurately current rarity statuses for wild plants found within each U.S. state and Canadian province. All of these changes will be posted with our next release scheduled for the first quarter of 2011.



Differences between BONAP and PLANTS Databases:

To help answer the multitude of questions regarding differences between the BONAP and PLANTS Database, I have provided the following summary.

Over a period of approximately 15 years, from the late 1980's to 2004, BONAP provided virtually all of the floristic data for the U.S.D.A. NRCS PLANTS Database, including all of the nomenclature, phytogeography, plus nearly all of the botanical attribute data (e.g., habit, duration, nativity and common names, etc.). The last significant revision of the BONAP data included within PLANTS Database was made in 2004. Since then, there have been virtually no updates of the taxonomy, nor U.S. state or U.S. county-level data on the PLANTS Database website. In fact, over the past year or more, there has been virtually no activity on the PLANTS Database by NRCS personnel.

By continuing to work with hundreds of taxonomists, agriculturists, state conservationalists, including botanists from the various State Heritage Programs and other researchers throughout North America, BONAP plans to provide comprehensive updates of these data semi-annually. Rather than follow a single scheme of classification, or a specific reference for the North American flora (e.g., FNA); our taxonomy will occasionally represent different concepts and incorporate taxonomic views that we feel represent more recent monographic revisions or floristic research or in some cases more widely accepted views. Nonetheless, contrary points of view will always be considered and welcomed.



NEWS (January 2010): BONAP releases its web-based, North American Plant Atlas. BONAP's web version of the U.S. County-Level Atlas has been developed for the contiguous forty-eight U.S. states. Although our voucher documentations of the 4.5 million U.S. county occurrences are not shown here, they will be included within the release of Floristic Synthesis scheduled later this year. Plant species restricted to Alaska, Hawaii, Canada, Greenland, St. Pierre and Miquelon are shown at the state or equivalent only and are illustrated via unique state-level based maps (e.g., Abelmoschus moschatus). We have also chosen not to include our Caribbean Island distribution records of Puerto Rico or the U.S. Virgin Islands, since those too will be included within the Floristic Synthesis. Plant species maps for which county-level occurrence records appear to be lacking result from their county occurrences being too few or the individual counties too small to be visible on the maps provided. Too, in some cases the county-level locations are currently unknown to us. All of these records will be viewable with the zooming capability provided within the Floristic Synthesis. Also, rarity fields shown in yellow, red or orange, must be considered DRAFT, since we are currently updating these fields. To access the map-display most rapidly, we suggest using Google Chrome or Internet Explorer as your browser. All of these maps, plus 100,000 additional digital plant images of the North American flora will be provided later this year on our North American Digital Flora.
NEWS (February 2010): BONAP, in collaboration with the Army Corps of Engineers, launches its revolutionary new Floristic Gazetteer. Never before in any country, domestic or foreign, has it been possible to select random locations on the landscape and produce comprehensive plant species lists for that area. With this most recent jointly developed release, which merges Google graphics into BONAP's phytogeography, it is now possible to produce extremely comprehensive summaries of plants for any geographic location in North America!!!.
Lists of plants can now be produced easily, accurately and comprehensively for any geographic area from private farms or private woodlots, to small towns or large cities; from National Parks, and National Seashores to U.S. states and Canadian provinces. Even for home-sites with personal mailing address or for local school grounds, or for areas with specific longitude and latitude coordinates, lists of plants can be generated with ease and precision. In order to achieve this accomplishment, BONAP incorporated tens of thousands of plant lists from small florulas throughout North America into larger floristic units, then linked these data with U.S. postal zip codes, and then to FIPS (Federal Information Processing Standards) codes, then to longitude and latitude coordinates, and finally to all of the North American place names on Google map. By using Google map as our search engine, we were able to produce the Floristic Gazetteer. Moreover, by using expanding concentric quadrangles, we were then able to expand the floristic coverage of any location outward by 10 - 20 or more miles, thus increasing the number of potential species found within adjacent locations. To facilitate the entire process, an embedded spell-checker was used to correct automatically typographical errors of locations without altering results. Although the system currently treats only members of National Wetland Flora (approximately half of the North American flora), we plan to include the entire North American flora later this year. The Floristic Gazetteer can be found within the Geographic Query window (Place Name or Zip code under Select Geo Type) on our North American Digital Flora.


The potential for this release is limitless. Consider for example, the inclusion of an interactive key that collapses to adjust for only those species found within a specific area. This process would facilitate greatly the task of identifying unknown member of the local flora. It would certainly ease the effort of keying by reducing the number of species found within any location. In testing the accuracy of the Floristic Gazetteer, we found that even in poorly collected areas, species diversity tallies can be made surprisingly complete by using the concentric quadrangle to expand the search into adjacent locations.


NEWS (February 2010): BONAP initiates the building of our interactive web-based key for the North American flora. As an adjunct to the Floristic Gazetteer, BONAP is building a web-based interactive key that will link plant morphology, plant ecology, plus hundreds of additional characters and charactennnr states of the North American flora with our locality data. Incorporated into this key will be BONAP's vast photographic gallery. With each selection of the key, the number of species and their linked images will reduce concurrently. One could then simply compare the remaining images with the unknown plant being keyed. Our goal is to produce keys so efficient that even a caveman can use them!


NEWS (February 2010): BONAP/Army Corps of Engineers releases its Custom Plant List capability. Perhaps equally interesting to some is the initiation of BONAP/Army Corps of Engineers Custom Plant Lists. With this feature, it will be possible to prepare species-list of National parks, National Seashores, U.S. military bases, National Forests or even vacant city lots. Our plan is to enable users to post their own custom plant list on our website so that only those plants (not plants of the surrounding flora) will be linked automatically to our website. By entering the species list file into the website, the data will be linked to the identification key, image gallery, etc. As an example of what can be done, we have entered a plant list for Eagle Hill, a well-known biological field station in eastern Maine. The Custom Plant Lists capability can be found within the Geographic Query window (Custom Plant List under Select Geo Type) on our North American Digital Flora. We plan to add additional custom plant lists for various locations very soon.


You may see a security warning when you attempt to open the National Wetland Plant List or the North American Digital Flora. There is no security risk from the site. The warning pertains to the fact that it is a secure website for entering personal information; however, the security of the connection cannot be confirmed by your browser. Since personal information is not being asked by the site, the message is irrelevant. Please just accept certification and the website will launch.


---
Last updated October 13, 2011.
5015